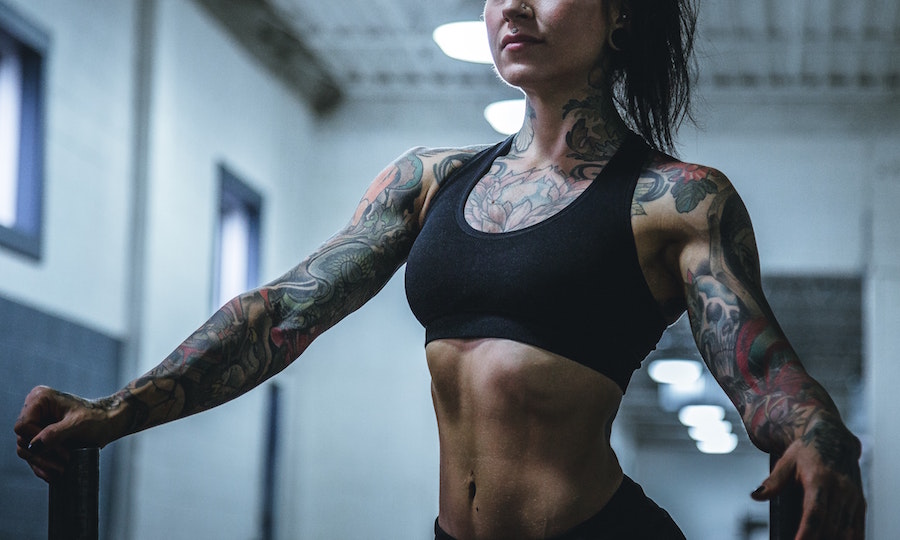 After months or years of hard work in the gym, dungeon, or other favorite place of physical punishment you have a physique to be proud of. However, in your never-ending mission to amplify the aesthetics of your human shell, you're considering a tattoo (or plural) to bring it all together. But while you've seen it work for some fellow gym rats and CrossFit addicts, the effect has been "not so much" for others. Can a tattoo really make a difference? It can. Here's how.
How Tattoos Can Peak Your Muscular Physique 
Flowing Lines Help Define
Not everyone is able to achieve a body fat ratio so low that you can see every striation. If you've always been bothered by the fact while muscular, you don't have much definition in your upper extremity, you can use tattoos to make certain areas appear more sinewy in a pleasing manner. An artist can work with your unique musculature, and draw lines to work and flow with every curve, connecting the surface bands of fibrous tissue that ultimately form your physique.
Can Draw Attention to Your Best Features / Muscle Groups
You have a favorite muscle grouping somewhere on that body of yours. Whether you've achieved success in that area from a massive amount of reps, heavy weight, genetics, or all of the above, it can make the whole package look even better when attention is draw to it. A tattoo can help accentuate your strong points. Getting inked on the positive space, the muscle itself, can make it the focal point. Alternatively, you can tattoo the negative space, which is the area surrounding the main muscle or muscle group that you're trying to draw attention to. A professional tattooist will approach this in the same manner as a painter or photographer. All you need to do is let them know what you're trying to accomplish aesthetically and they'll take care of the rest.
Can Draw Attention Away from Weak Spots
Not happy with the way your triceps pop, or should we say don't pop? While a tattoo won't make a mountain out of a molehill it can absolutely make up for those stubborn zones that refuse to keep up with the rest of your physique. This can typically be accomplished by tattooing the entire or significant portion of the area (i.e. biceps, triceps, deltoids, pectorals, calves, etc.) in dark ink so that the focus is placed on the design and not the muscle itself. The tattoo can also be designed in a manner that adds to the "roundness" of the body part, making it appear to be more muscular than it really is.
Another "weak spot" for those who have experienced significant muscle growth in a relatively short amount of time, are zones with stretch marks (which can come from quick growth). You'll be happy to know that tattoos can be applied to diminish the visible impact of stretch marks.
---
Like with any successful tattoo, choosing the right studio and artist is everything. During your initial consultation you will want to communicate your goal of enhancing muscle so that the tattooist knows exactly what you're trying to accomplish. If they don't quite get what you're putting down, then find another artist/studio, or simply come to one of our studios in Greater Vancouver or Toronto. We work with clients of all shapes and sizes, including fitness buffs and buff individuals. And for those of you have have just received new ink, please reference our guide to working out after getting a tattoo so that you afford your new design the care it deserves.