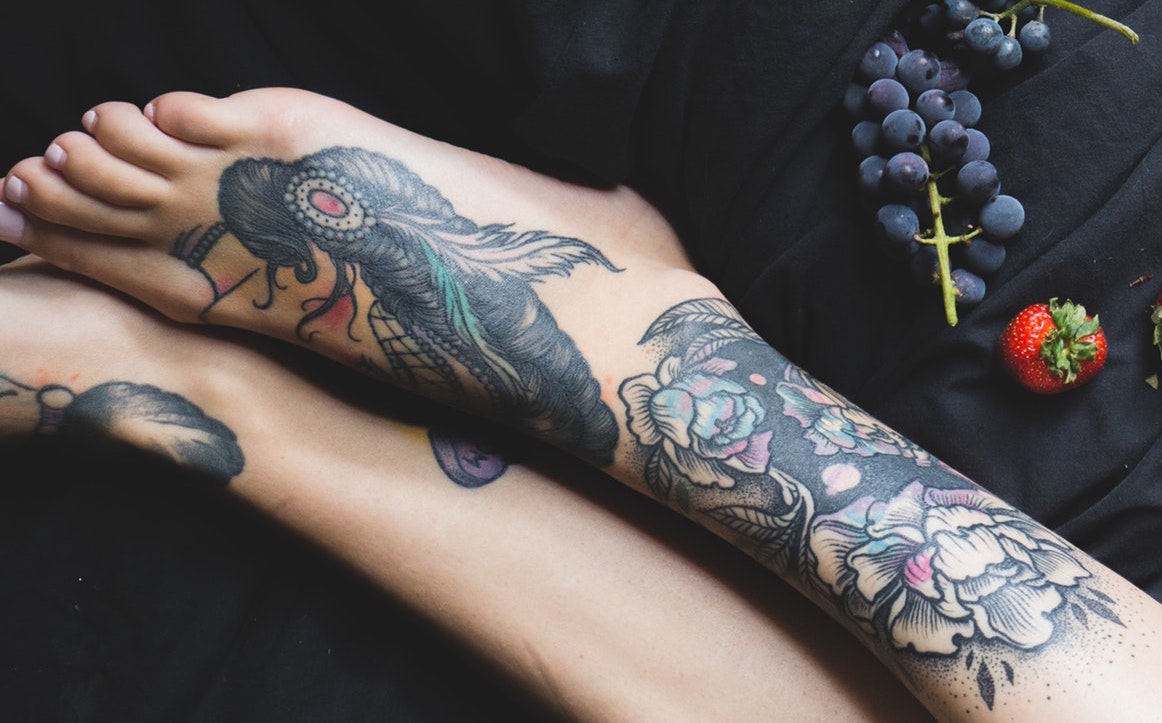 Foot tattoos have gained in popularity over the last few years as celebrity after celebrity have taken to Instagram to showcase fresh ink on their well-pedicured tootsies. With every magazine from Cosmo to Glamour naming the foot among the top spots for women to get a tattoo it's no wonder that studies show a gender split when it comes to placement. Think we're exaggerating? Recent data finds that 83.2% and 87% of tattoos on women are found on the ankles and feet, respectively. Compare that to just 16.8 and 13 percent of men.
But that's beside the point.
Like with any tattoo, there are unique considerations when it comes to placement, which is why we're weighing in with some advice before you walk over to a tattoo shop near you and get some permanent work done on your precious peddlers.
4 Things You Need to Consider Before Getting a Foot Tattoo
1. Placement
For starters, consider whether or not you want to show off the ink through all four seasons. If so it's time for a brief lesson in foot anatomy. Placement above the transverse tarsal joint or tarsals (the top area of the feet, essentially) will allow you to display the work whether wearing stilettos of VANS (sans stockings and socks, of course). However, if for professional reasons (or not) you want to leave exhibition for the flip flop and sandal season or vacation then you may want to go with one of the most common placements – above the medial longitudinal arch (outer arch) or above the inner arch.
Also, given the addictive nature of tattoos, you will want to consider room to grow. You can dip your toes in the water with a small tattoo along the lower portion of the foot and then over the months and years to come the right tattoo can organically grow, extending up towards the ankle and higher up the lower extremities. If you think this may be a part of the end game then give placement and design some creative thought.
2. Aftercare
Short term and long term aftercare are important since your feet pound the concrete on a daily basis. Research shows that they are the most susceptible to post-tattoo infection. Obviously you need to be mindful of aftercare in the days and weeks after getting a foot tattoo, avoiding excessive sweating and stress (from running, etc.) and to ensure quick healing by religiously applying the provided cleaning solution and by consuming the necessary antioxidants for wound healing (there, we just justified the blueberries in the featured image).
However, long term care is also essential to maintaining a great looking tattoo down there. That means if you don't already moisturize on a daily basis, you need to make that a part of your regime to prevent dried and cracked feet. Otherwise your foot tattoo quote will end up looking more like an ancient scroll.
3. Can You Manage the Pain?
In our recent article about how to decide where on the body to get a tattoo we addressed pain threshold and how the feet are considered to be high pain zones given the sheer number of nerve endings. The least painful part of foot anatomy to get a tattoo is along the aforementioned outer medial longitudinal arch, the fleshiest part of the foot that has become tougher over the years after frequent contact with footwear and day to day elements. If you plan on getting inked elsewhere on the foot understand that the thin skin covering the metatarsals and transverse tarsal joint will do little to keep it from feeling as if your bone is getting needled. If your pain threshold is just as thin as the layer of skin on the top of your feet, consider the inner and/or outer arch or go small and grow it later.
4. Studio Choice is Everything
Choice in tattoo studio is EVERYTHING. We're not just talking about access to the top tattooists in your locale. Instead, we're referring to two very important points addressed above. For one, given that foot tattoos are most vulnerable to infection, you need to ensure that you are getting the work done at a studio that is renowned for cleanliness. This commitment to health and safety is backed by strict adherence to tattoo and piercing safety standards laid out by the provincial government though HealthLink BC and the tattoo infection prevention and control guidelines laid out in Toronto Ontario by municipal and provincial bodies. Learn more about how to choose a tattoo studio, which is a guide you will want to follow when getting a foot tattoo.
---
Your next step is to contact a studio near you to schedule a consolation. If you live within or are visiting the Greater Vancouver BC or Toronto ON area call or walk-in to one of our shops and walk out with a tattoo you'll be proud to kick your feet up and show.